...months, that is. That's how old my kids are today.
Amelia Jayne is 15 months old today.
Xander is 47 months old today. (In other words, he'll be 4 next month).
Sigh.
They're growing up too fast.
I've been enjoying finding new blogs to read and recently came across
this one.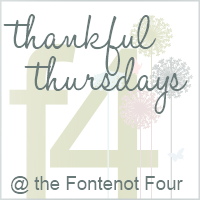 I've decided to link up and share things that I'm thankful for each Thursday. If you remember my commitment to share something I'm thankful for each day of November 2012, this will be a great way to continue a segment I enjoyed so thoroughly.
That brings me back to my earlier statements. 15 and 47...how grateful I am for those two kiddos and the joys and sorrows, headaches and smiles they bring to me. I am blessed to be their mommy! That's what I'm thankful for on this Thursday!
Oh! And I'm thankful that little Emory gets to come home today! Keep praying for that tough little guy...he's a fighter! :)